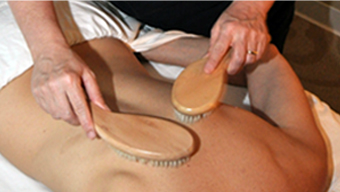 Developed by Liz Olivas, this treatment stimulates, exfoliates and encourages the movement of fluids through the surface of the skin.
Unique in its application, this treatment involves the use of two small brushes. Using alternating strokes that create a spiraling pattern on the surface of the skin, the therapist is able to accelerate drainage of the skin quickly and efficiently. Using a soft cloth, loosened skin cells are then removed and essential oils are applied to nourish the skin.
Dry brushing supports skin renewal, stimulates the lymphatic system, positively affects nervous, immune, and digestive systems, aids in removal of accumulated toxins, and brightens the spirit, giving your body and mind a fresh glow. This is an invigorating yet relaxing treatment.
*Brush sets are available for purchase.
Soft Brushing:

We use imported brushes made from 100% goat's hair and sustainable wood. This treatment is specifically geared to moving fluids through the surface of the skin. This process has an incredible ability to engage and activate the lymphatic vessel structures. It is especially nice for people with sensitive skin and for face and neck treatments.


Firm Brushing:

For this treatment we use small boar's hair brushes. It is a more stimulating and exfoliating treatment for the surface of the skin. It engages the lymphatic structures and moves fluids to encourage drainage towards the deeper lymphatic vessel structures. It is recommended for stubborn areas of congestion or for less sensitive skin.
For more information about Dry Body Brushing, check out Liz Olivas Blog "Lymphatic Skin Brushing https://www.thetherapeuticalternative.com/blog/
Check out our exclusive line of German Dry Body Brushes:https://www.thetherapeuticalternative.com/product-category/brushes/