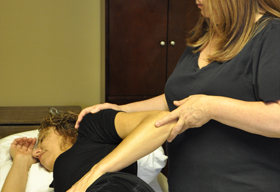 Rooted in Osteopathy, this gentle method uses positions of comfort, gentle movements, isometric/isotonic muscle contractions, joint compression, and subtle techniques to initiate the release of tension & pain. It relieves constrictions in joints, tissues and lymphatic structures. OB facilitates a natural process to correct structural misalignments from the inside out. This treatment is given with the client fully clothed. Please wear loose comfortable clothing.
Benefits of Ortho-Bionomy®:
Relief of muscle aches, sprains, and strains • Pain management • Relief of symptoms from: Arthritis, Fibromyalgia, Sinusitis, TMJ Dysfunction, Carpel Tunnel Syndrome • Relief of neck and shoulder pain • Stress Relief • Quick muscle recovery from training • Increased range of motion • Structural Alignment
Ortho-Bionomy®, the Sand Dollar design, and Society of Ortho-Bionomy International® are registered trademarks of the Society of Ortho-Bionomy International, Inc. and are used with permission.