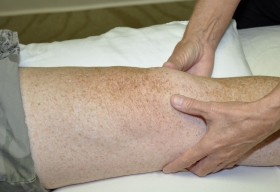 Knee Surgery ~ Shoulder Repair Surgery ~ Hip Surgery ~ Bunion Surgery ~ Carpal Tunnel Syndrome Surgery
Pre Surgery
Manual Lymphatic Drainage (MLD) offers countless benefits. For optimal results, it is recommended that one or two MLD treatments be performed prior to surgery. The following are the benefits of pre-surgery MLD:
Detoxifies by helping remove waste
Increases localized circulation of fresh blood (containing nutrients for tissue healing)
Stimulates immune system
Stimulates the Parasympathetic System (induces a state of relaxation)
Prepares tissue for surgery (well drained tissue for a cleaner incision)
Post Surgery
The Lymphatic system is the body's natural cleaning mechanism, removing toxic fluids from our cells. Because of the nature of a surgery, significant trauma and muscular tightness often occurs, which causes to restrict tissue fluid movement, often causing edema. A series of reactions produced by the body's inflammatory response to trauma immediately follows. It is theorized that delaying the removal of edema may increase the risk of secondary injury and result in a longer recovery period. Without Manual Lymphatic Drainage (MLD), the inflammation can develop into fibrosis, which is a permanent hardening of the tissue. The following are the benefits of post-surgery MLD
Reduces swelling
May reduce pain
May help reduce the risk of infection
May accelerate wound healing
Scar improvement
May reduce bruising
Stimulates blood circulation, which increases the flow of oxygen and nutrients to the area
Greater active joint flexion
Increases range of motion
References:
Ebert et al. Randomized Trial Investigating the Efficacy of Manual Lymphatic Drainage to Improve Early Outcome After Total Knee Arthroplasty. Archives of Physical Medicine and Rehabilitation , Volume 94 , Issue 11 , 2103 – 2111
Härén K, Backman C, Wiberg M. Effect of manual lymph drainage as described by Vodder on oedema of the hand after fracture of the distal radius: a prospective clinical study. Scandinavian Journal Of Plastic And Reconstructive Surgery And Hand Surgery[serial online]. December 2000;34(4):367-372. Available from: MEDLINE Complete, Ipswich, MA. Accessed August 27, 2017.