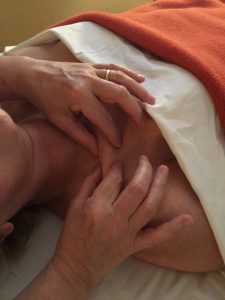 Preventative healthcare has become a deep rooted concept in our culture. As a Certified Lymphatic Therapist for over twenty five years, I have treated hundreds of women and some men, who have had symptoms that were secondary to breast cancer treatment.  As a result, I have often dreamed of a practice that was preventative, one that might help people achieve health and comfort before they succumb to this disease.  At The Therapeutic Alternative, we believe in cleansing the tissues of the breast, as well as the whole body, to keep the tissue fluids crystal clear. It is a good place to start with this preventative approach to breast health!
Lymphatic Drainage helps to drain and keep breast tissue clear of congestion and waste build up. The lymphatic system is a very fine and delicate system, one that requires some pressure build up to be active.  Lymphatic Therapy is designed to stimulate and accelerate the lymphatic system, through gentle manipulation of the skin, the tissue of the breasts are decongested.
We believe that it is beneficial to support breast tissue with lymph drainage, body brushing, and self massage. As a part of each detoxifying lymphatic treatment, we teach body brushing, self massage, and other self care techniques.  We employ the use of a variety of different body brushes to manipulate the skin, and therefore the lymphatic system.   All of our brushes are imported directly from Germany, are handmade, and are of the highest quality.
At The Therapeutic Alternative we applaud all who have fought the fight of Breast Cancer!
March is Lymphedema Awareness month. During this month, The Therapeutic Alternative raises funds to benefit the National Lymphedema Network Garment Fund.  This fund offers compression garments to those who have lymphedema after breast cancer, but can't afford them.
Help support the women and men who have been affected by the side effects of treated Cancer.  To donate call us at 561-392-3340 or go to https://lymphnet.org/garment-fund/